TBL-180
Effortless Ramp Navigation
The Douglas TBL-180 emerges as the ideal option for efficient relocation tasks. Engineered with a focus on effectiveness, this equipment manages pushback and intergate towing responsibilities. The Douglas TBL-180 accomodates aircraft spanning from A320 to B767 with precise speed control. With a strong emphasis on safety and comfort, the pushback provides unparalleled visibility, ergonomic seating and a secure enclosed cab that ensures the well-being of your crew. Three-speed variations for both forward and reverse motion, augmented by an oversteer warning system, makes navigating the ramp effortless.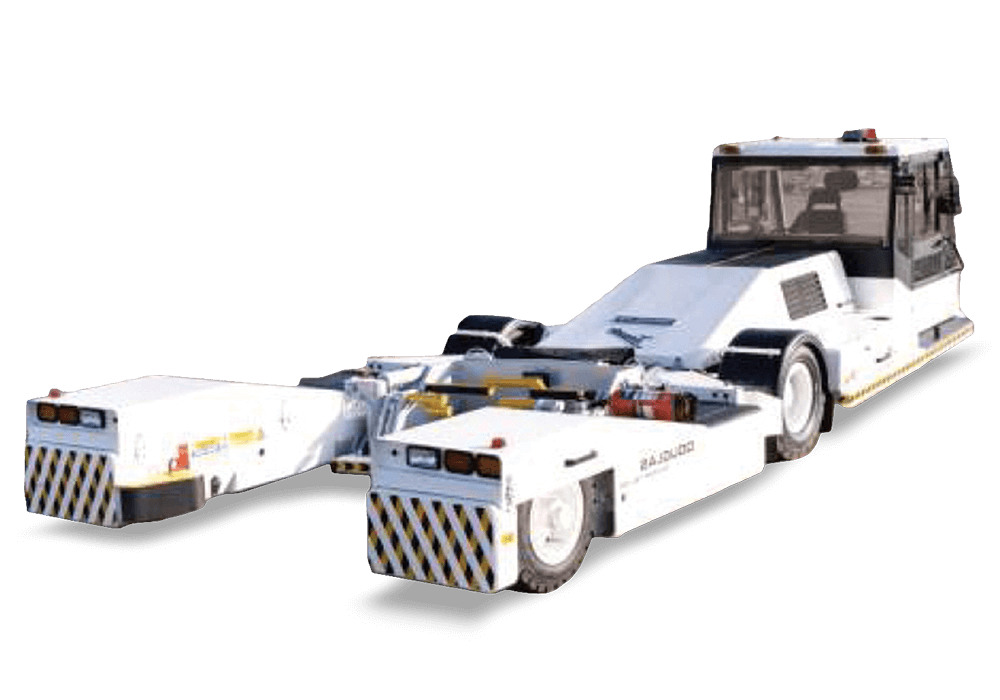 CE Certified

Diesel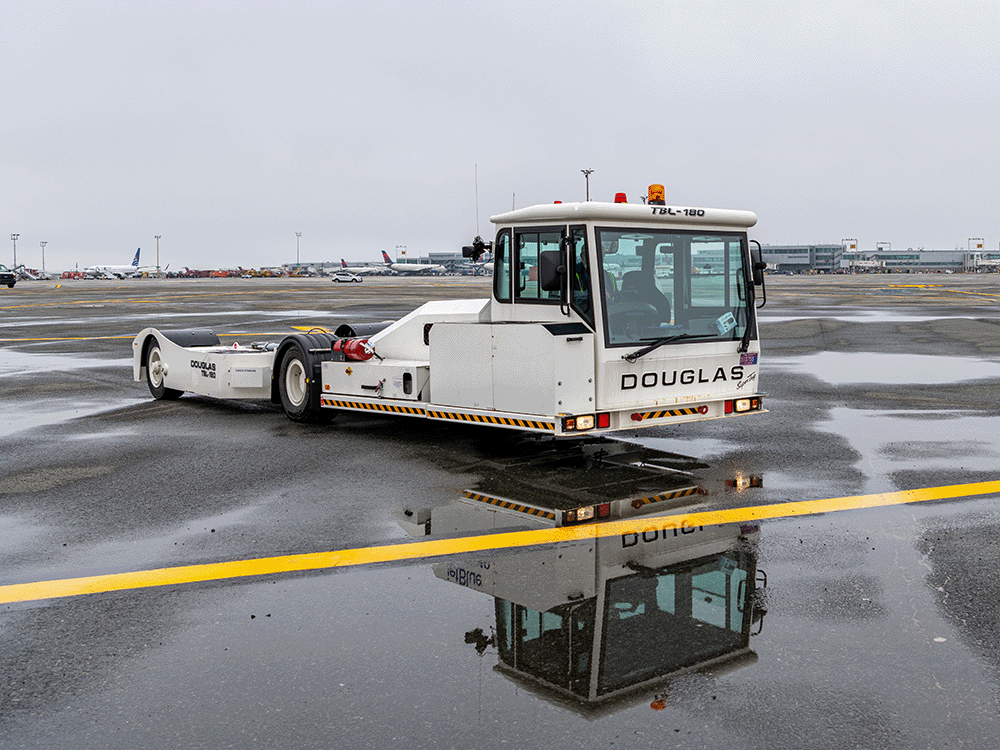 OVERSTEER WARNING SYSTEM
The oversteer warning system provides real-time alerts to operators when oversteering is detected to prevent accidents.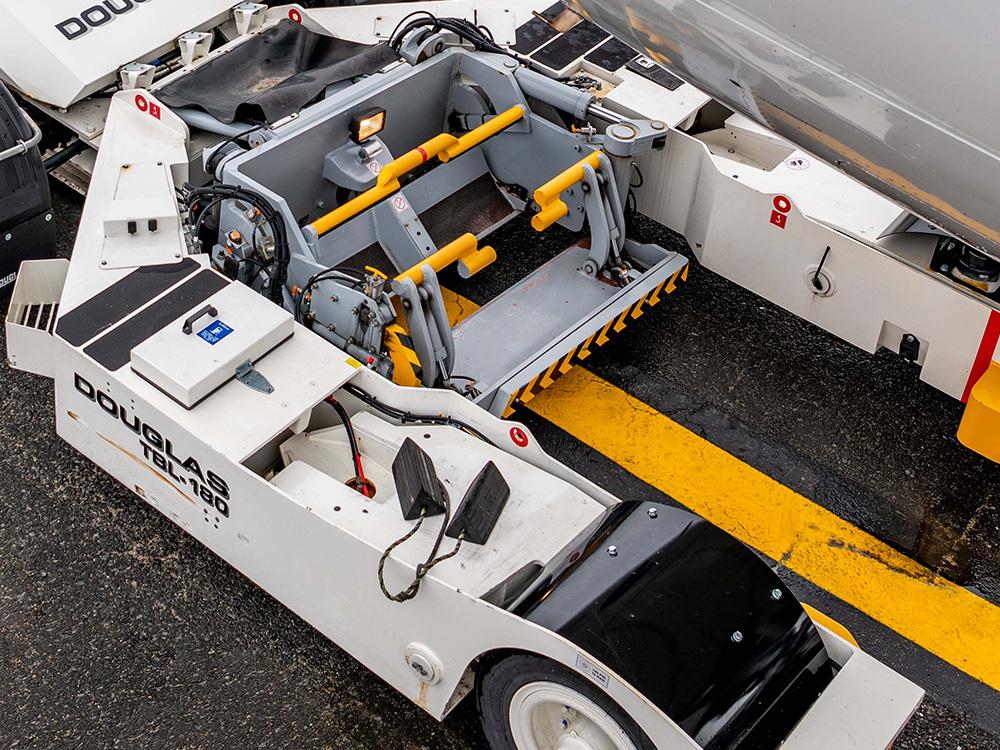 EMERGENCY ELECTRO-HYDRAULIC PUMP
The emergency electro-hydraulic pump delivers critical power reserve in emergency situations, guaranteeing essential functions remain operational even in the absence of the main power source.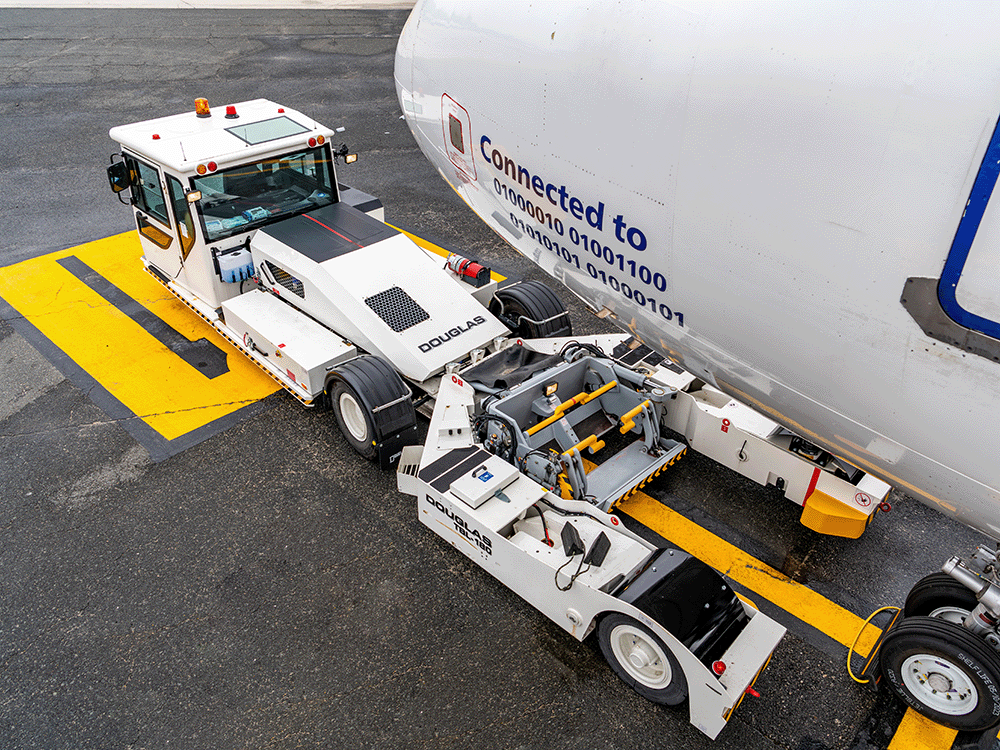 CRADLE LIFT CAPACITY: 50,700 lbs (23,000 kg)
Ensure secure and efficient movement of heavy loads with a cradle lifting capacity of 50,700 lbs (23,000 kg).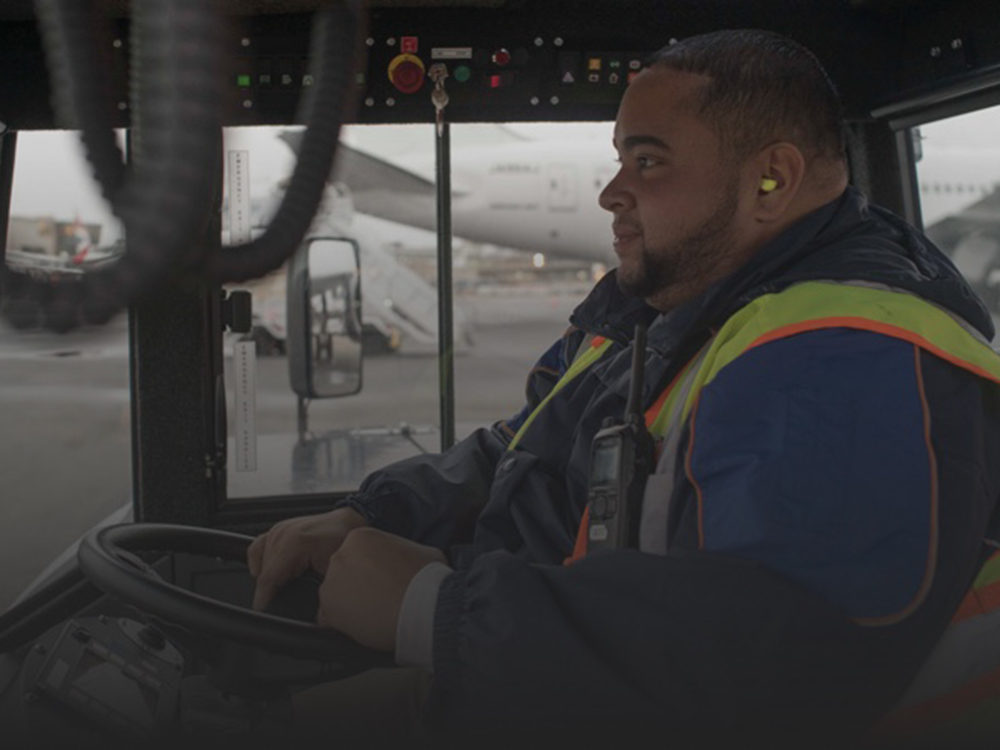 ENCLOSED CAB WITH ERGONOMIC SEATING
This enclosed cab with ergonomic seating was designed to provide a superior working environment while shielding operators from the outdoor elements.
| | Deutz TCD 3.6 L4 |
| --- | --- |
| Width | 119.4" (3,034 mm) |
| Length (Without Coupler) | 314.8" (7,995 mm) |
| Height (With Cab) | 76.8" (1,950 mm) |
| Wheelbase | 125.6" (3,190 mm) |
| Cradle Lift Capacity | 50,706 lbs (23,000 kg) |
| Standard Weight | 18,563 lbs (8,420 kg) |
| Ground Clearance | 5.3" (135 mm) |
| Turning Radius (Overbody, Unladen) | 383.1" (9,730 mm) |
| | Deutz TCD 3.6 L4 |
| --- | --- |
| Top Speed | 12 mph (20 km/h) |
| EPA Tier / Certification Level | EU Stage IV / US EPA Tier 4 Final |
| CE Certified | Yes |
| | Deutz TCD 3.6 L4 |
| --- | --- |
| Engine | Deutz TCD 3.6 L4 |
| Type | Water-Cooled Direct Injected, Turbocharged, 4 Cylinder |
| Fuel & Compatible Fuel (Type & Quantity) | 20 US gal (75 L); Ultra Low Sulphur Diesel |
| Displacement (Size of Engine) | 220 CID (3.6 L) |
| Governed RPM Full Load | 2,300 |
| Net Brake HP at Governed RPM | 120 (90 kW) |
| Torque | 354 lb ft (480 Nm) @ 1,600 RPM |
| Transmission | Engine Mounted Clark 20000 Series Powershift Transmission Incorporating Torque Converter and 3 Speed Forward, 3 Speed Reverse Gearbox |