660
Designed for reliability, durability and versatility, the TUG 660 is a revolution in the ground support equipment industry. Standard with heavy-duty axles, 4-wheel disc brakes and enhanced steering, this belt loader is packed with efficiency-driving features. The TUG 660 has various customizable aspects, allowing you to tailor the belt loader to fit your operational needs. Choose from numerous drivetrain options including Samsung lithium, gas, diesel and lead acid. Additionally, Smart Sense anti-collision technology is offered along with other features that ensure safety with every process.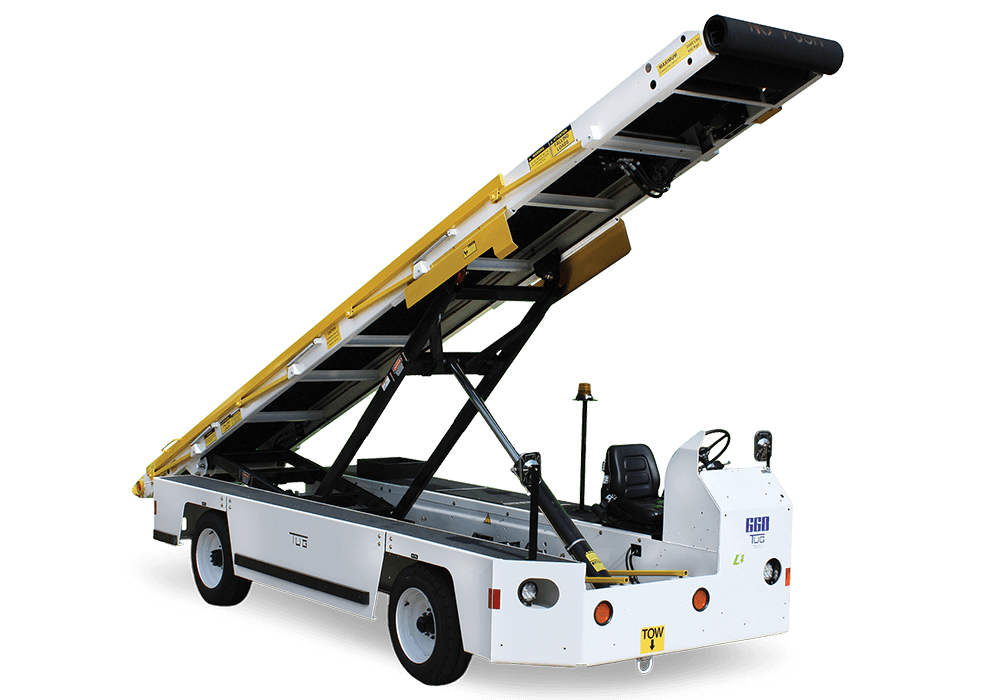 CE Certified

Lithium

Gas/Diesel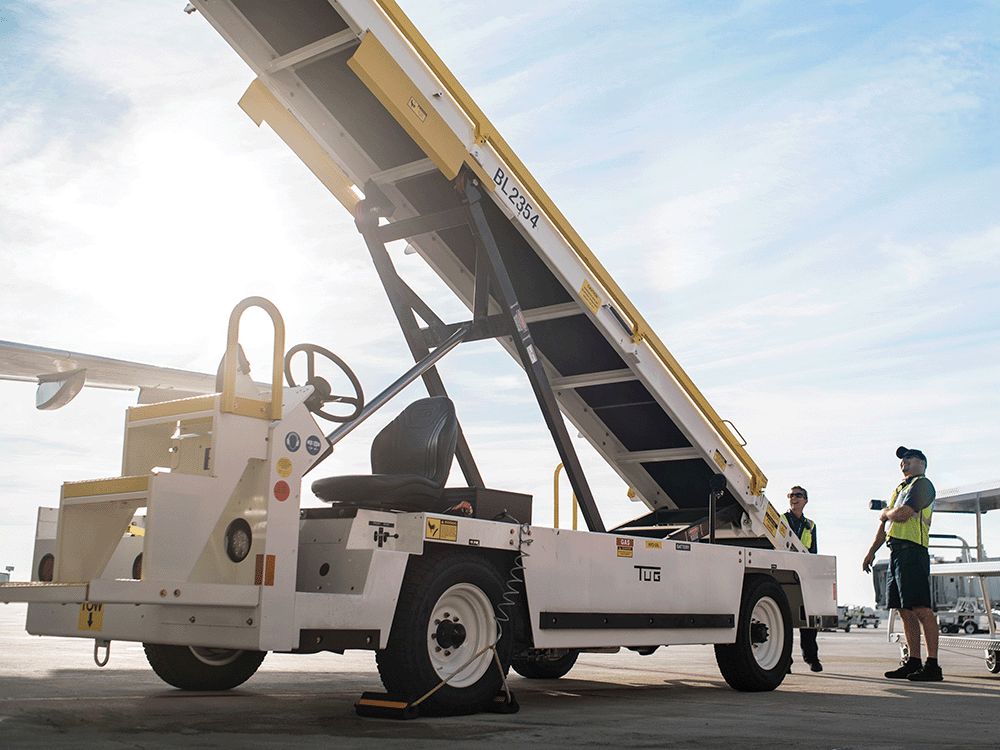 MULTIPLE ENGINE OPTIONS
Engines offered in Samsung lithium, lead acid, gas and diesel powertrains.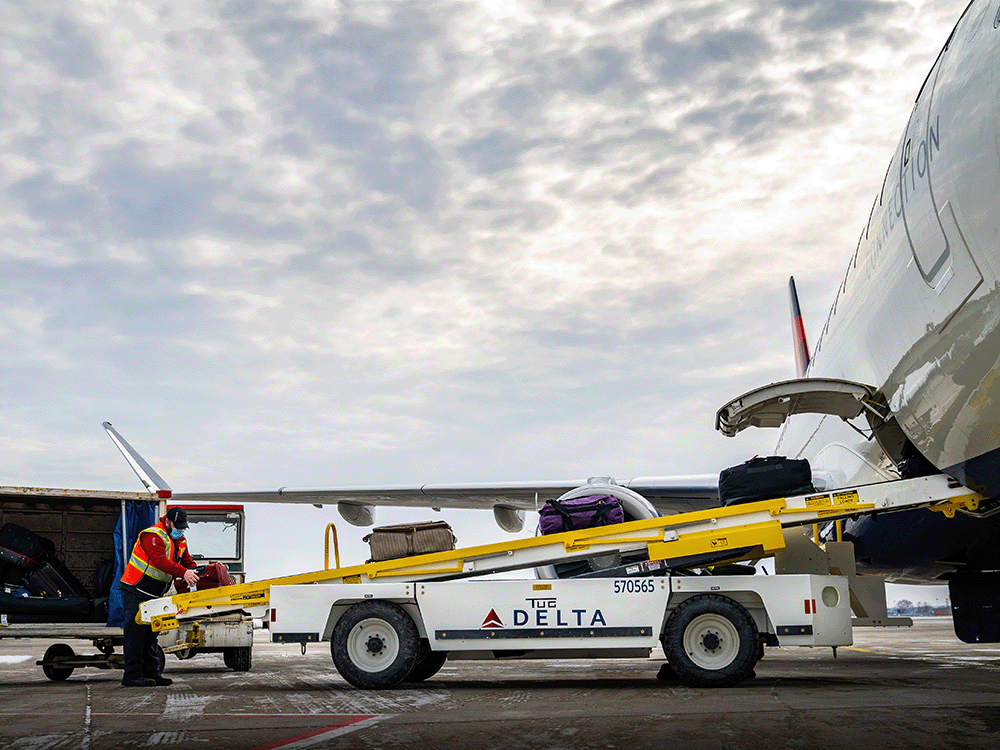 HEAVY-DUTY CONVEYOR CAPACITY
A conveyor capacity of 2,000 lbs (907 kg) enables efficient transportation of heavy loads.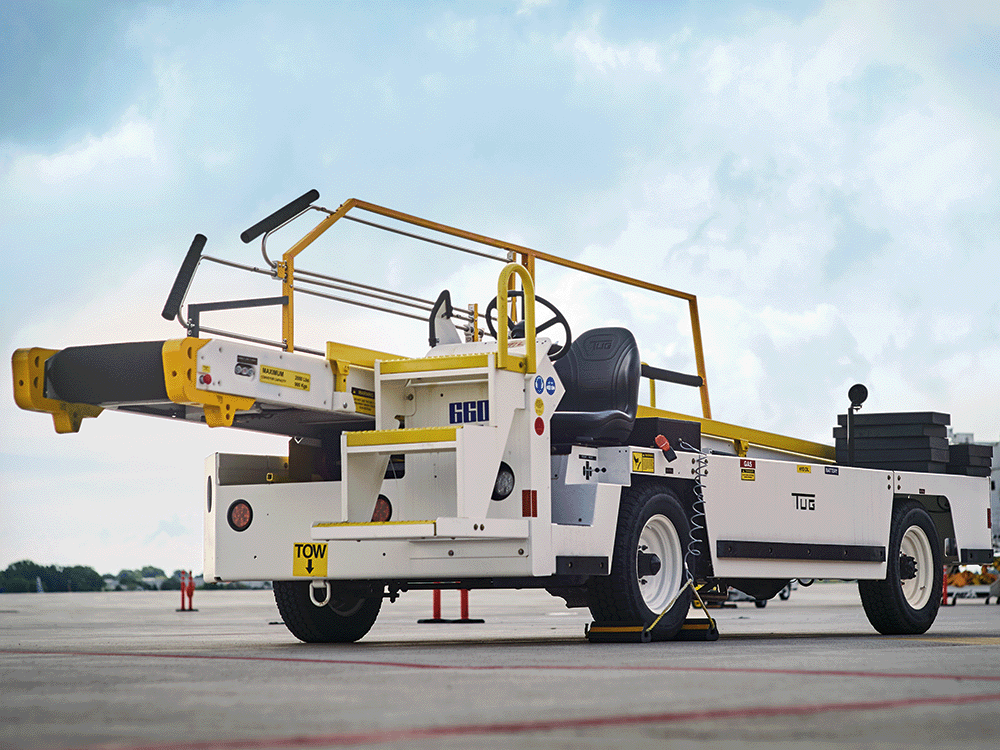 MULTI-POSITION E-STOP
The multi-position e-stop enhances safety and control with strategically placed buttons along the length of the conveyor, allowing you to utilize multiple vantage points.
HIGH SPEED CAPABILITY
This vehicle has high speed capability of up to 15 mph (24.1 km/h), allowing for efficient movement on the ramp.
Lithium
Electric AC
Ford 2.5L
Deutz D2.9L
Width

78" (1,981.2 mm)

Wheelbase

110" (2,794 mm)

Height (Less Cab)

59" (1,498.6 mm)

Height (With Cab)

85" (2,159 mm)

Standard Weight
7,300 lbs - 7,700 lbs
8,700 lbs (3,946 kg)
7,000 lbs (3,266 kg)
7,000 lbs (3,266 kg)
Length (without Hitches)

300" (7,620 mm)

Ground Clearance

7.5" (191 mm)

Outside Turning Radius

324" (8,230 mm)

Conveyor Width

34" (863.6 mm)

Conveyor Length

294" (7,467 mm)

Conveyor Capacity

2,000 lbs (907 kg)

Conveyor Speed

45 - 90 fpm (13.7 - 27.4 mpm)

Conveyor Belt Width

24" (609.6 mm)
Lithium
Electric AC
Ford 2.5L
Deutz D2.9L
Top Speed

15 mph (24.1 km/h)

EPA Tier / Certification Level
-
-
-
Tier 4F
CE Certified
Yes
Yes
No
No
| | Lithium | Electric AC | Ford 2.5L | Deutz D2.9L |
| --- | --- | --- | --- | --- |
| Type | Lithium Battery | DC Battery | Water-Cooled, 4 Cylinder EFI | Water-Cooled, 4 Cylinder Common Rail, In Line |
| Fuel & Compatible Fuel (Type & Quantity) | - | - | Gas or LPG | Ultra Low Sulfer Diesel Only |
| Displacement (Size of Engine) | - | - | 153 CID (2.5 L) | 177 CID (2.9 L) |
| Governed RPM with Full Load | - | - | 2,600 | 2,600 |
| Net Brake HP at Governed RPM | - | - | 69 (52 kW) | 49 (36.5 kW) |
| Transmission | - | - | GM 4LHD (with Gen III Electronic Valvebody) | GM 4LHD (with Gen III Electronic Valvebody) |
| Torque | 38.5 Nm | 38.5 Nm | 143 lb ft (194 Nm) @ 2,400 RPM | 108 lb ft (146 Nm) @ 1,600 RPM |
| Motor Power | 10.5 HP (7.8 kW) drive AC motor, 7.78 HP (5.8 kW) pump hydraulic motor | 10.5 HP (7.8 kW) drive AC motor, 7.78 HP (5.8 kW) pump hydraulic motor | - | - |
| Motor Controller | 1 Curtis controller (Traction); 1 Curtis controller (Pump) | 1 Curtis controller (Traction); 1 Curtis controller (Pump) | - | - |
| Battery Capacity | 200Ah - 300Ah | 300Ah - 440Ah 80-volt | - | - |
| Battery Voltage | 80 - 96 | 80 | - | - |