TMD
The TUG TMD lineup features an automatic compressor cool down system and continuous airflow allowing for reliable performance for your operation. Experience hassle-free maintenance with remote lube oil drains that streamline operations and reduce downtime. Rear lead spring suspension makes for a smooth and stable ride, enhancing operator comfort. The TUG TMD lineup delivers cost savings with increased fuel efficiency, along with intuitive controls and real-time monitoring supported by the illuminated LCD operator control panel.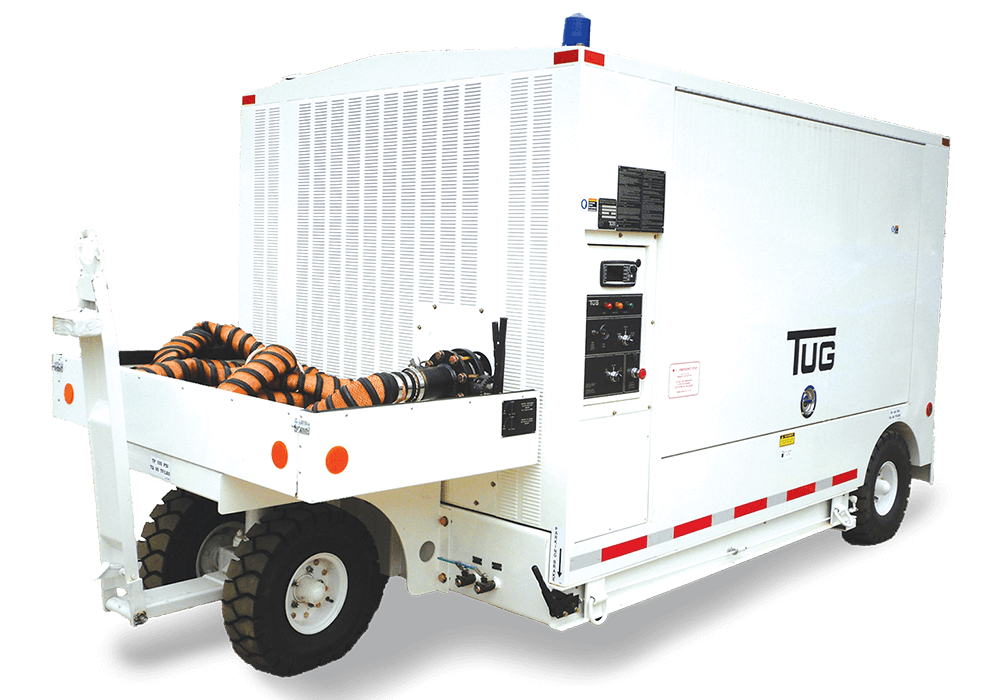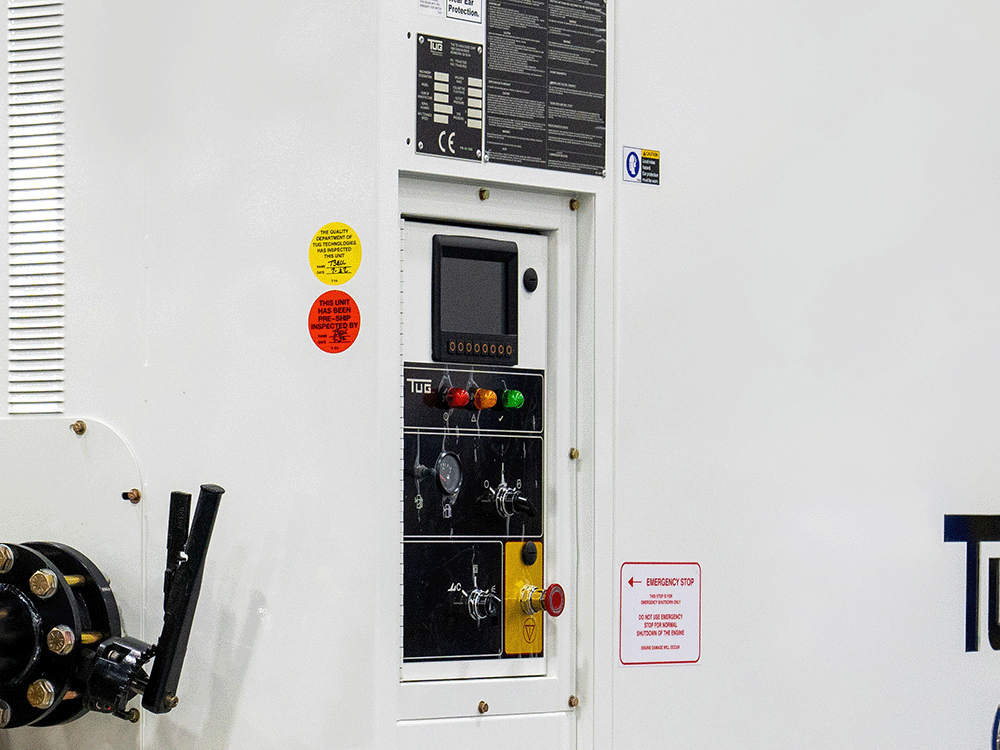 LCD COLOR DISPLAY
The LCD color display provides real-time updates for your air start's operation status. From pressure levels to maintenance alerts, this feature helps provide the insights needed to make informed decisions.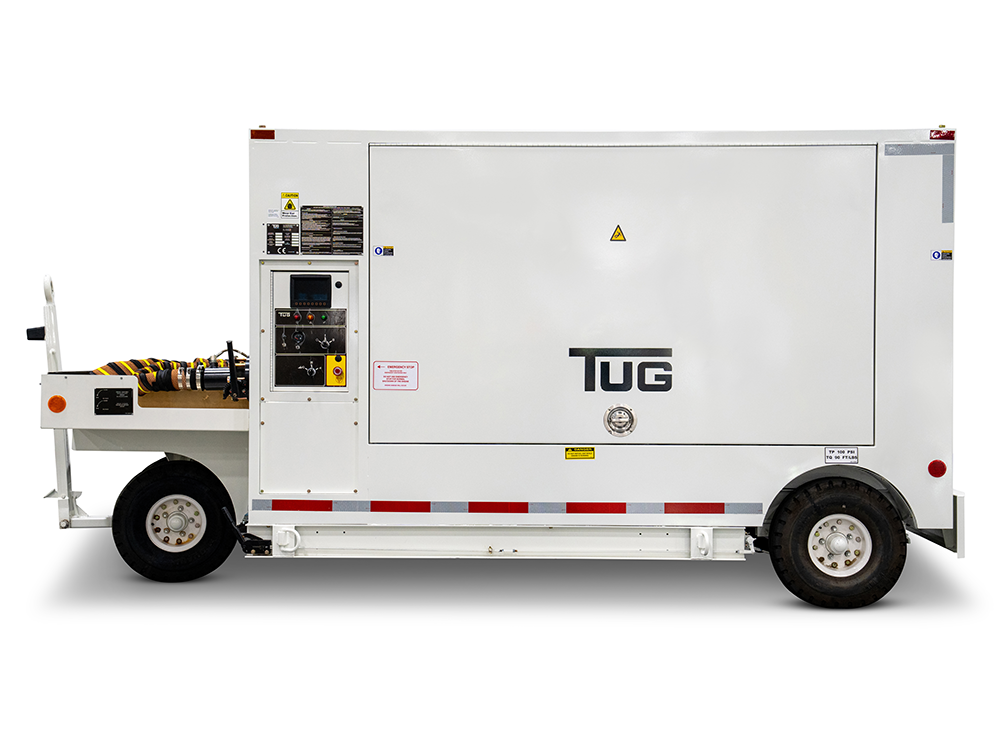 HIGH SPEED CAPABILITY
This vehicle has high speed capability of up to 15 mph (24.1 km/h), allowing for efficient movement on the ramp.
UNIT RUNNING SAFETY BEACON
The unit running beacon radiates a clear signal of operation, providing awareness and visibility on the ramp to ensure the safety of your assets.
AUTOMATIC COMPRESSOR COOL DOWN SYSTEM
The automatic compressor cool down system monitors compressor temperatures and initiates a controlled cooldown process. This prolongs the lifespan of your air start by minimizing wear and tear.
TMD150 - Cummins QSM11 375 HP
TMD180 - Cummins QSX15 435 HP
TMD250 - Cummins QSX15 535 HP
TMD270 - Cummins QSX15 600 HP
Width

82" (2,083 mm)

Wheelbase

148" (3,759.2 mm)

Height

92.5" (2,350 mm)

Standard Weight
10,600 lbs (4,808 kg)
11,050 lb (5,023 kg)
12,300 lb (5,580 kg)
13,300 lb (6,033 kg)
Length (without Hitches)

176" (4,471 mm)

Ground Clearance

8.5" (215.9 mm)
TMD150 - Cummins QSM11 375 HP
TMD180 - Cummins QSX15 435 HP
TMD250 - Cummins QSX15 535 HP
TMD270 - Cummins QSX15 600 HP
Mass Flow Output
150 lbs (68 kg)/min at 68F (20C)
180 lb (82 kg) / min at 68F (20c)
250 lb (113.4 kg)/min at 68F (20C) 1,800 RPM
270 lb (122.5 kg)/min at 68F (20C) 2,000 RPM
EPA Tier / Certification Level

Tier 4F

Type
Water-Cooled, Direct Injected, 6 Cylinder, Turbocharged CAC
Water-Cooled, Direct Injected, 6 Cylinder, Turbocharged CAC
Water-Cooled, Direct Injected, 4 Cylinder, Turbocharged
Water-Cooled, Direct Injected, 6 Cylinder, Turbocharged CAC
Speed (Idle)

1000 RPM

Speed (Max. When Loaded)
2200 RPM
2100 RPM
2200 RPM
2200 RPM
Max Tow Speed

15 mph (24.1 km/h)
TMD150 - Cummins QSM11 375 HP
TMD180 - Cummins QSX15 435 HP
TMD250 - Cummins QSX15 535 HP
TMD270 - Cummins QSX15 600 HP
Fuel & Compatible Fuel (Type & Quantity)
ULSD Only 65 US gal (416 L)
ULSD Only 110 US gal (416 L) (all)
ULSD Only 110 US gal (416 L) (all)
ULSD Only 110 US gal (416 L) (all)
Displacement (Size of Engine)
8.88 L
14.9 L
14.9 L
14.9 L
Governed RPM with Full Load

1,900

Net Brake HP at Governed RPM
375 (280 kW)
435 (324 kW)
535 (399 kW)
600 (447 kW)